Hoversurf's first eVTOL air taxi concept revealed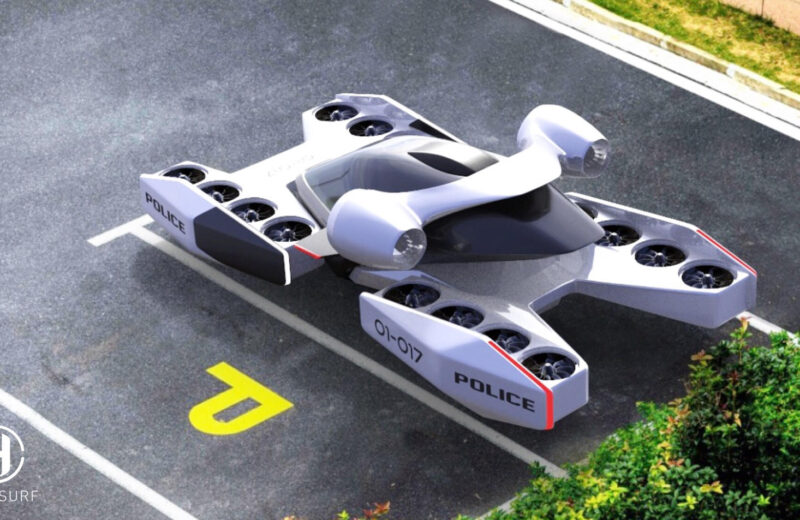 Hoversurf, the California-based technology start-up, has released the first details and photographs of its eVTOL taxi concept – known as Formula v1, billed as a "flying Ferrari".
Designed to carry a pilot and passenger in low altitude flight, the Formula v1 is powered by 18 Hoversurf Venturi engines, which operate electric-ducted fans. The aircraft manoeuvres using 16 ducts to climb, move forward and to descend and two side ducts to turn.
Hoversurf advisor and former COO, Joseph Segura-Conn, told Revolution.Aero that the company showcased its first concept for an air taxi three years ago but decided to initially apply the technology to its hoverbike design.
"We believe there are certain stages to development before you just jump into designing a flying six-seat vehicle," said Segura-Conn. The first prototype will be manufactured in-house, using parts supplied from various suppliers.
'Want it to look like a flying Ferrari'
The prototype will potentially be designed by a "well-known vehicle concept designer for cars like Ferrari and Bugatti Veron", said Segura-Conn. "We want it to look like a flying Ferrari."
Safety was a prime concern in its design. "The Formula v1 has more safety features built-in than any other concept or model out there. Despite loss of power, the Formula v1 will still have control of the forward ducts which will help safe landing. It is also fitted with ballistic parachutes and an airbag system built into the bottom," said Segura-Conn.
Further designs for a fully functioning air taxi are planned, with the next version understood to be an autonomous model. This model will also be able to float on water, allowing it to eventual water take-off and landings.
He added: "There's no market yet, so we can take our time testing designs and proving our IP [intellectual property] to design the best-designed vehicle possible."
'Best-designed vehicle possible'
The first delivery of the Formula v1 will likely be to a repeat customer – the Dubai Police. Hoversurf delivered five Scorpion 3 hoverbikes to the Dubai Police last year. The force is currently training operators to use them.
In the longer term, Hoversurf intends to sell the Formula v1 to a third-party partner, rather than trying to provide a service in the commercial air taxi market.
Segura-Conn noted that companies often try to "do a bit of everything and lose sight of what they are good at". But Hoversurf intends to continue applying its expertise to technology-based projects such as the Formula v1, its Scorpion 3 hoverbike and a developmental heavy-lift cargo drone.