Destinus flies hydrogen afterburner for first time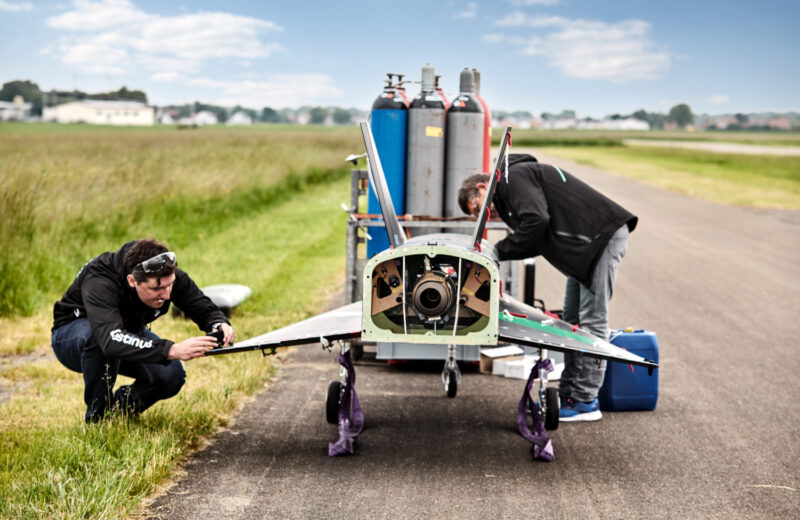 Destinus has flown its Jungfrau prototype equipped with a hydrogen-fuelled afterburner for the first time.
The flight took place on Wednesday, May 24, at an airport near Munich, involving an unmanned prototype with a hypersonic aero-shape design. Several flights were conducted with multiple firings of the hydrogen afterburner, reaching speeds of approximately 250kph. The afterburner was designed in-house, produced with additive manufacturing, and ground tested at Destinus' propulsion test site in Payerne, Switzerland. 
"Our current achievement represents a major leap forward in aerospace technology," said Mikhail Kokorich, founder and CEO. "The successful flight with hydrogen afterburners demonstrates the potential for future high-performance propulsion systems that are highly efficient and reduce carbon emissions, as part of Destinus' goal to develop hypersonic aircraft powered by hydrogen."
An afterburner is a combustion component used on a turbojet engine for generating more thrust by injecting additional fuel, in this case, hydrogen, into the turbine exhaust stream. The increased thrust generated by afterburners enables aircraft to achieve higher speeds and climb rates. They can also provide the necessary power to achieve supersonic speeds.
The use of hydrogen as a fuel source represents a significant evolution in sustainable aviation, according to Destinus. The fuel is the key enabler for long-range and high-speed flights, with a much higher energy density compared to Jet A. In addition, hydrogen is known for its clean-burning properties, emitting only heat and water vapour as a by-product, minimising carbon dioxide emissions. It also has three times the energy density of Jet A fuel, making it suitable for long ranges and high speeds. 
The next prototype, Destinus-3, is underway and will be the world's first supersonic prototype powered by hydrogen when it flies next year. Funded in part by European grants secured through the Spanish government, Destinus-3 will be unveiled alongside Jungfrau (Destinus-1) and Eiger (Destinus-2) at the Paris Airshow in June.